Young Hollywood just posted this interview with Printz!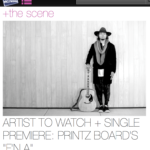 YH: It seems that "F'N A" has a more laidback vibe than your other singles that have a rock edge. What was the inspiration behind this chill song?
PB: Yeah, "F'N A" was an ode to my love for the [Red Hot] Chili Peppers' music. I picked up my acoustic guitar, and that main line just came out. Then I was with Lucy Graves, from the band, and I came up with "F'N A" while I was driving, listening to the guitar. The song still has a lot of energy for me, just not "Jump-Around"-House-of-Pain energy. [laughs]
YH: What do your classify your music style as?
PB: My music is "guitar-driven soul pop hop"… I think.
YH: How did you get started in this music industry?
PB: I started in the industry by playing in a ska band called Gangusters. Then I went on to a cover band called Goldfish… Played in a swing band called Alien Fashion Show… And then had my own band that was slated to get signed about 5 times, which was called Gravy. The first thing that I did globally was the Black Eyed Peas.